Leah is dating a Johnnys... some Mr. 'N'!!


Yup I just found this on Choscandalous in spanish (cuz Yao seems to be too busy to update lately)...
....
.....
.........
Don't worry I'll translate it for you XDD (I might locked this later...)


This is a rumor of
Yahoo! Taiwan
, so you can make your own thoughts about how reliable this is XDDD but still like she said rumors are rumors, they are mostly fun to read.. I love them, many people loves them so here it goes XD (Niki don't worry... this is just a rumor!)
"Leah Dizon's fans will be heartbroken! A japanese "heart/love" magazine (they don't say which one XP) has reported that Leah is dating an artist from Johnny's Jimusho, whose name begins with "N". They think that person could be Ninomiya Kazunari, Nishikido Ryo or Nakamary Yuichi.
(Come on... those are all the Johnnys with N XDDD)
Leah Dizon, the euroasiatic artist, has been constantly reported to date with this Mr. N from Johnny's Jimusho. In th emagazine where this article appeares, it's said that Leah and Mr. N met at work, and that they have been together in a show. They started dating since Mr. N wrote a song for her and he also sang it at his concert (this N guy's concert that is XD), and it woulnd't surprise if you start asociating two lovers living together like the song says about them, an evidence of them being really in love
(... LOLOLOL).
Who can this Mr. N be? With the proof (that is if you can call it a proof what you read on a gossip magazine) we could say that Mr. N might be Ninomiya Kazunari from Arashi, Nishikido Ryo from Kanjani8 and NewS, or Nakamaru Yuichi from KAT-TUN. But, since it has been said that Ninomiya is dating Nagasawa Masami, is more probable that it would be Nishikido or Nakamaru."
I don't know about you, but I was still hoping for Yoko XDDDD Anyway... Let's see.... Why the most possible one is Ryo....
1. Nino is supposedly dating Nagasawa for about 2 years already.....
2. Nakamaru.... I don't know.. has she already been in his Cartoon KATTUN??? And I srsly think Maru just found about her becuz she was going to be on his show XDDD...
3. I doubt Nakamaru would write her anything XDDD
4. Ryo is a fanboy... but I do think he only likes her appearence.... I mean he's superficial for sure... but I also think when it comes to serious relationships he would surely prefer a girl with a clean resumé XD
5. I don't hate Leah OK???? But I sort of agree with the girl from Choscandalous... (I didn't tranlate her thougths... I don't want Leah fans killing me or anything XD)
Anyway... if this is true... I don't think this is serious..... and still it's Taiwan Yahoo.... it's gossip... this can be pure BLAH XD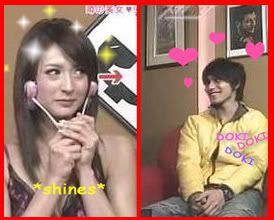 Freaking Leah..... she's stealing living my dream XDDDD